Gyselle spots Joel doing push-ups by himself, she approaches with caution as to not startle the wild fuckboi in heat.
"Hey, Joel."
"Well, if it isn't the Little Mermaid. Long time no....
sea
"
"Dear God, of course he likes puns..."
"Ha. Yeah...totally."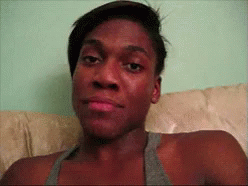 "So uhm, what was all that earlier? Felt like the roof was about to collapse from all that yelling."
"That, my fresh little sushi roll is what happens when you work with absolute idiots. But what's it to you?"
"Well, I was obviously hoping to get some dirt."
" You don't really seem like the gossip type. I mean, considering you've been pretty antisocial for weeks. What's the catch?" He stands up and grabs a bottle of water.
"No catch...I just wanted to hear your input?"
"Riiight....look if you're here to beg me to vauch for you infront of Cam, I'm gonna have to disappoint 'ya. I'm not a fan of how the situation with the hipster shitstains lowkey exposed my alliance. Yeah, don't think I didn't saw you snooping back there near the plants. I don't really mess with Cam's plans either way." He opens the bottle and takes several gulps.
"Why not? Don't you have a say in who he puts up for eviction?"
"I just nod and agree with whatever he wants. To me it doesn't really matter who goes, since most people here are lame. I thought a certain pair were cool enough, but I guess the fuck not. I don't really have an opinion of you, in case you were wondering. I mean you're hot, but you're a prude so..."
"Gee, thanks." Gyselle rolls her eyes.
"Are you done wasting yours and my time?"
"Are you always this pissed off or is it because of the fight and the fact Cam has you on a leash that's too tight?" She smirks.
"Listen, I think you have the wrong idea. Cam may be running shit right now, but I'm walking out of here with that prize money. I don't care how hot he is, I'm taking him down in the long run."
"Uhh, okay?" Gyselle backs away a bit, as Joel got uncomfortably closer up in her face.
"I'm not gay. Guys can think other guys are hot."
"Didn't really ask, but good to know." She sticks up her thumb.
"Stop snooping and start playing the game, Gyselle."
"Maybe I would if I had a worthy opponent, but alas the only one I can think of is a bottom bitch." With that Gyselle waves at Joel and struts away.
"OH.NO.SHE.DID.NOT."